I will accompany you for a unique and exceptional stay in the world.
In French, English, German or Chinese (with a Chinese guide).
Program carried out according to your budget. Individuals or groups.
Educational tourism, discovery of private, rare and wonderful places and landscapes.
Exceptional, authentic gastronomy, from the farm to the Michelin starred restaurant.
Meetings with exceptional producers
( Wines – Poultry – Foie Gras – Ham – Cold cuts – Beef – Fish – Rare pigs – Armagnac – Kiwi – Vegetables – Mountain & sea fish – Landes & Basque specialities), Etc.
As you wish from 3 days to 7 days.
Opportunities to prepare an extension France or Spain.
From Bordeaux airport or TGV train station. Or Toulouse.
Discover Bordeaux and its wine-growing region – Visit of the great Châteaux
Stay in the countryside, in the wonderful countryside of TURSAN and the Way of Santiago de Compostela.
Visit of the model cellar "Les Vignerons Landais", conference on wine according to your level. Understanding of wine techniques, I adapt myself… Possibility to elaborate your branded wine, your cuvée. I adapt myself to your level of knowledge.
Visit of Michel GUERARD's winery & vineyards, restaurant ***Michelin since 1977,
*****Palace and the famous "Ferme aux Grives".
Exceptional visit in Armagnac, very rare still of 1806.
Stay at the farm or in a Palace according to your budget, or mixed.
Authentic farm meal, farm visits.
Cooking lessons, meeting Michelin starred chefs.
Visits to exceptional medieval villages and castles.
Wonderful extension to the Basque Country, French & Spanish.
Gastronomy from Landes (the most famous in France) and Basque.
Foie Gras, Confits, Garbure, Rare hams, Chalosse beef, TURSAN wines, Mountain trout, Espelette Chilli, etc…
Exceptional visit of San Sebastian and its gastronomy of Tapas. Biarritz, St Jean de Luz….
Options: Thermal stay, Golf, Initiation to the piloting of planes, helicopters or racing cars.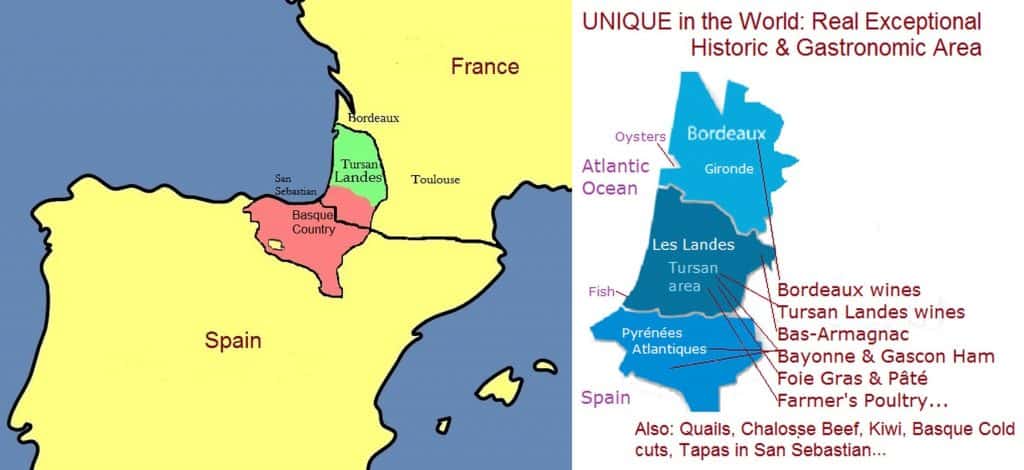 Possibility of a 100% professional "SOURCING" stay
FOOD & WINE BRAND CREATION